This happened last week…I was watching the glorious AIG Women's Open at Royal Troon, and a scroll went below showing scores from other tours. At some point, I'm sure, I saw Dustin Johnson and Scottie Scheffler battling to see who could break 60 at The Northern Trust, and then it shifted to the European Tour. And then, I saw this:
For those playing at home, this is Nacho Elvira.
Well, actually …. THIS is Nacho Elvira.
Nacho is actually annoyingly attractive and a decent golfer to boot. But that name….THAT NAME. It's insane and awesome and I'm here for it.
And it got me thinking…what are the best names in golf? Please note that this isn't an attempt to make fun of anyone – they're all fantastic golfers, and probably decent humans. Their names are either hilarious to me, or in some way stand out from the rest.
Good men must die, but death cannot kill their names.

Proverb
Let's start on the European Tour – and based on Mr. Elvira, I must say … I was let down somewhat. I was really hoping for a litany of names that sounded like Hogwarts professors. I found them (spoiler alert!) but not really on this tour. In addition to good ol' Nacho, my favorite names on the European Tour are: Maximillian Keiffer (sounds either like a Grand Master chess player or a famous actor who played a heavy back in the 1960s), Guido Migliozzi (look, I'm not going to make a joke about the Mafia but man, just say that name out loud a few times and try not to grin, it's so fun to say!) and Jerome Casanova. Even better, Jerome's middle name is Lando. As in Calrissian. (And here's a "fact" I just learned – Mr. Calrissian's formal name is Baron Landonis Balthazar "Lando" Calrissian III. You're welcome.)
But I WANT HOGWARTS PROFESSORS. And where did I find them but … the Korn Ferry Tour!
You have but to know an object by its proper name for it to lose its dangerous magic.

Elias Canetti
It might be TOO on the nose, but Michael Schoolcraft (it's a school, where you learn witchcraft!) has to earn a spot here. Others, like Stephen Gangluff (Potions), Nick Killpack (Dark Arts, OBVIOUSLY), Austin Smotherman (Dark Arts, the following year) and Trent Whitekiller (Dark Arts, the year after that) join John Malinger (who teaches whatever is the most boring possible course that year).
Then, there's the guys whose names are alliterative in a way that is just preposterous. The leader in the clubhouse is, obviously, Bronson Burgoon. (I've told my wife his name several times and each time she says, "There's NO way that's true.") If your last name is Burgoon, I think it's possibly parental malpractice to give a son the name Bronson. Bronson is a COOL name. It just is. But first names need to work with last names and … this one earns a red card. Other names that should have caused some pause are Barry Babbit, Blair Bursey (both on the Mackenzie Tour), Major Manning (KFT, but he should be an announcer on CNN with that name) and Vance Veazey who should be a character in a Quentin Tarantino film.
OK, we're almost there. A few more gems before we end with a bang.
The name of a man is a numbing blow from which he never recovers.

Marshall McLuhan
Greg Shakespeare – I'm sorry. I know the great writers first name was William, which isn't all that special, but Greg? Greg Shakespeare just really feels like a miss. At least go with Gregory. HE'S THE GREAT BARD, for god sakes.
Derek Lamely, I'm so sorry for what had to be a tough childhood. Similarly, I'm quite sure that Daniel Iceman could live the rest of his life without seeing this gif ever again: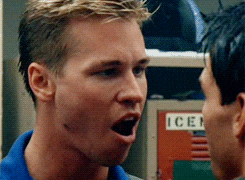 Imagine going through life named Carter Page, having a good enough golf game to play professionally on the Mackenzie Tour and then THIS guy shows up:
(In case you've forgotten, THIS Carter Page was one of the first member of the Trump 2016 campaign to be indicted. He is quite a trendsetter.)
But when it really gets down to it, the "winner" in all of this is none other than Talor Gooch. First, his first name is spelled so, so stupidly. Second, his last name needs … a lot of discussion. For me, an old guy, it reminded me of "The Gooch" – the bully from Diff'rent Strokes, the 1970s sitcom that was a personal favorite.
But oh…that's not all. It's not even close. Because when I did a search for "gooch" to find the above photo, I discovered that there's an actual definition of Gooch, and it is this:
Gooch: Slang for the perineum, or the area between the anus and genitals, usually on a man.

Dictionary.com
That's right – a gooch is the same thing as a taint. I'm sorry to everyone, but Talor Gooch deserves whatever award we are giving out here.
Who did I forget? Add your favorites in the comments below.