A little while ago, I outlined my USA Bucket List courses, and in that article I outlined what I'm talking about when it comes to a "bucket list." I think that's most helpful when it comes to Scotland, the true home of golf and a place where I think I could spend several summers and never play every course I want to.
As a reminder, I visited Scotland in 2018 and was lucky enough to play some of the top courses that would otherwise be on my list. So if you're wondering where The Old Course, Carnoustie, Royal Dornoch and others are, check out my top-25 list, and you'll likely find them.
So, here's the problem with being an obsessive golfer. I started a Google Map of my bucket list courses, and this is what Scotland turned into:
That … is too many courses. (Remember, there are nine GREAT courses not even shown here because I've already played them.)
And yes, I do have a problem. (Honestly, I have a lot of problems, but this is one specific to golf.) You'll notice there's two different colors, which became necessary to try and TRULY find the courses I really, really, REALLY want to play. Filtering to just those, it looks a bit more manageable:
Hey! That looks like a small enough group of courses that maybe one day, someone could plan out a trip and hit all of them! Let's get into it. Again, these are not in any particular order. Let's hit 'em all.
North Berwick Golf Club, East Lothian, Scotland
This is perhaps the biggest regret of our amazing trip, in that we skipped North Berwick. That's mainly because we were never in East Lothian, but it's not a far drive down from Fife, and we could have made it happen. North Berwick is regaled by those who have visited it and has served as the inspiration for template holes such as the Redan par-3. And the wall that guards the 13th hole? Inject this into my veins.
The beauty of hitting up North Berwick is that it opens up the whole East Lothian area, which includes courses NOT on this list such as Dunbar, Renaissance Club, Kilspindie, Musselburgh, and … the next one on this list.
Gullane Golf, East Lothian, Scotland
Home to three championship courses, Gullane has hosted the Scottish Open on it's No. 1 course – and thus, if you forced me to pick one, I'd certainly choose that. But I like the fact there are several courses to play. Always a bonus. It just looks gorgeous, and fun, and it's on the seaside. I am IN.
In case you were wondering, and I strongly doubt that you were, I'd be sure to stay at the Ducks Inn during this trip through East Lothian. It's a true golfers hotel, replete with a putting game through the bar that looks nigh impossible, but worth a go:
Cruden Bay, Aberdeen, Scotland
Another area of Scotland we couldn't get to during our trip was Aberdeen. Truly, there are so many great courses that you have to be somewhat focused, and we stayed mostly in Fife and Inverness. But in or close to Aberdeen, there are three courses that I desperately want to play and Cruden Bay is right at the top of that list. It's often cited as some folks' favorite Scottish course, and when Tom Coyne says something like that (it's one of two he mentions) my ears perk all the way up. The video from No Laying Up makes it a slam dunk for me to visit.
The pictures from Cruden Bay look amazing, and it seems to be both an accessible course and a challenge, so there's something for everybody. Those massive dunes you see are similar to Lahinch (spoiler alert for the Ireland list), but they provide an intense defense and backdrop for what looks like a tremendous walk. There's also a few short par-4's, perhaps my favorite type of hole anywhere. Because the course was clearly designed around those dunes, there are a lot of blind shots, which adds to the excitement and a reliance on a good course guide or caddy. Again, what's not to like? This, along with North Berwick, are the two courses I wish I'd played on my first trip. They'll certainly be on my next itinerary.
Royal Aberdeen, Aberdeen, Scotland
Royal Aberdeen never really surfaced to a place where we debated playing it or not on our trip a few years ago, and I'm not sure why. Sure, it isn't part of The Open rota, but the Scottish Open has been played there and as a "Royal" course that means it's been there for a long time and has some level of importance. (Note that it's completely arbitrary which courses get this designation, as some folks at Royal Troon laughingly admitted when I asked.) And, as noted, we never really got close to the Aberdeen area so that was part of it as well.
But man, I am not sure we thought this out so well. Because Royal Aberdeen looks CHOICE. It is a true links course, and many of the holes are right up against the coast. And even when you're not looking at the sea, you get some stunning (if terrifying) looks like this:
I will also admit to getting this legendary course confused with Trump Aberdeen – formally called Trump International Golf Links – and as you might guess, wasn't excited about that prospect. (The course also loses a ton of money every year and is an environmental disaster, AND is likely the reason Mike Keiser was unable to build Coul Links up in Inverness due to the shady way Trump went about building this course. And yet, I digress.) Don't be dumb like me and confuse a historic course that does everything the right way with … something less than. Royal Aberdeen is easily on the bucket list for me, next time I get back to Scotland.
Cullen Golf, Moray, Scotland
Cullen Golf is located right at the top of the east coast of Scotland, in between Inverness and Fraserburgh in the map at the top of this post. It's fairly remote and the course itself measures about 4,600 yards with a par of 63. Yes, you read that right. Not exactly set up with the Tiger Tees.
So, why is it on this list? Like many Americans, I'd never heard of it until I watched the No Laying Up video of it from their trip there in early 2018. And man, it looks like no other course I've ever seen. That sounds hyperbolic, but look at this:
I could include more images but these giant rocks – which do indeed look similar to the red rocks of Colorado or Arizona – are just all over the course, and many holes involve blind shots over or aside these. Like Elie, you are often teeing off over another green because the land is so small. How often do you get to play a round of golf that feels like NOTHING you've ever done before? It feels like a great opportunity and something you could do on your way from Aberdeen to Inverness. Cullen Golf is a truly unique looking course and I'd love to add it to my itinerary.
Brora Golf Club, Inverness, Scotland
When we headed up to Inverness, we were slapping two rounds onto the courses we'd worked out already with a tour company. Those were, quite smartly, Castle Stuart and Royal Dornoch. I regret nothing! But, I will say that while we were up there, I heard talk about Brora, a course that had fencing around the greens to prevent the sheep and cows from walking there – because they were absolutely everywhere else. I must admit that this felt more like a bug than a feature.
And then I saw the NLU video on it, and I was intrigued. And Shane Bacon absolutely raves about it as well. There's clearly something there. Again, who doesn't look for a unique experience on a golf course? Again, this is a shorter course – simply because that's the way the land was when this was built years and years ago (and updated to something close to its currently layout almost 100 years ago by James Braid).
By the very nature of Brora, it's not the kind of course that looks great in photos (or even videos) – it's VERY rustic, and like many courses in Scotland, the fairways can be brown even when it's utterly playable. But it's pictures like this that make me think it's truly unique and special.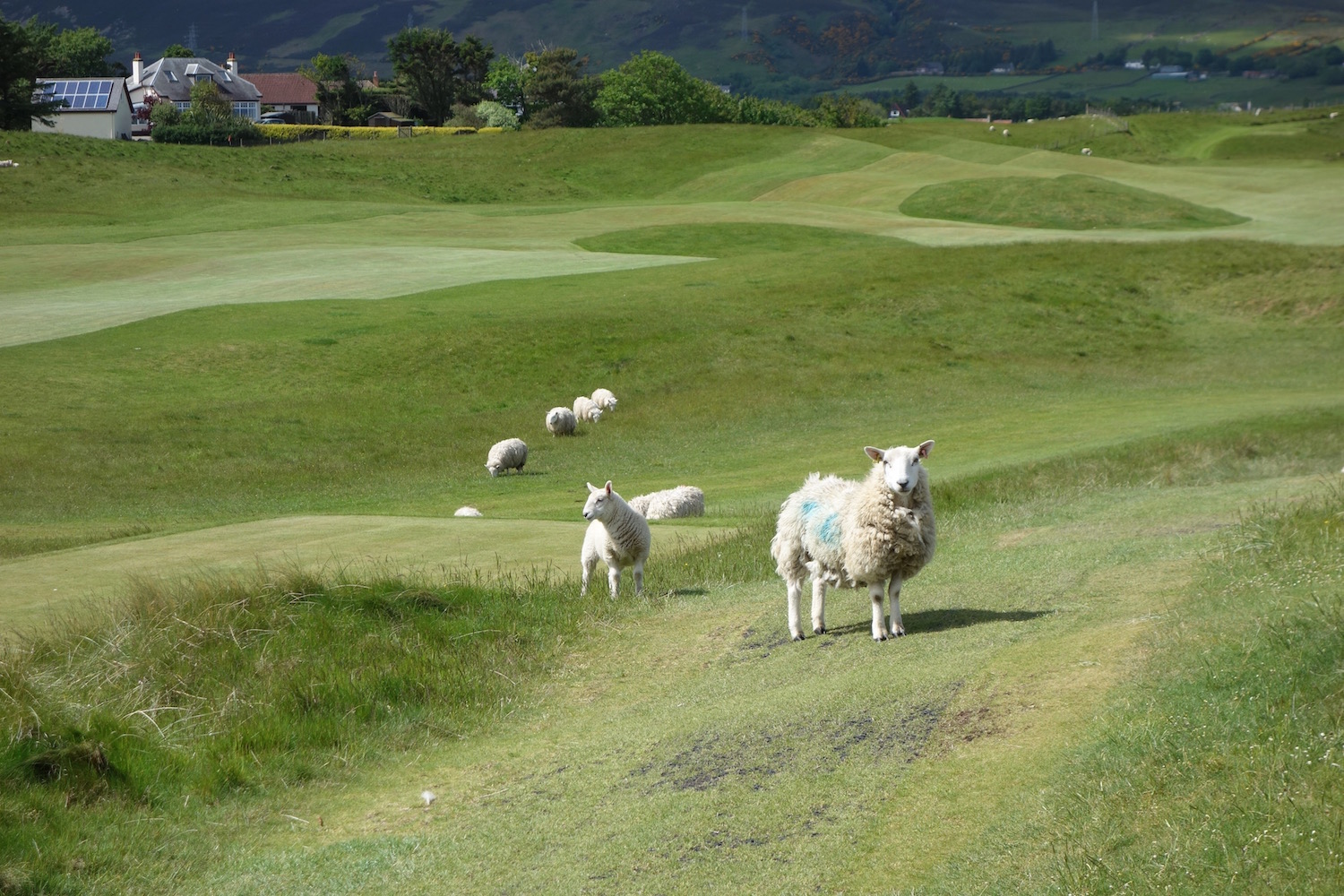 Besides, it's 30 minutes north of my favorite course in the world, Royal Dornoch. If I'm going to add Brora to the list, I'm definitely working in another round at Dornoch. That's what we'd call a win-win, folks.
Prestwick Golf Club, Ayrshire, Scotland
While we did manage to play both Royal Troon and Turnberry in this region, we didn't have time to cover all our ground and Prestwick was the most notable omission in this region. One of the oldest courses in Scotland, Prestwick was home to The Open for years – and the place The Open began. It hosted the first 12 Opens and a total of 24, but is now considered unsuitable to host the event. It's not the distance as from the back tees it is 6900 yards, but the scuttlebutt is that the layout doesn't facilitate fans, grandstands and the like. I genuinely don't know because I've never seen it! The sheer history of the course would be enough to lure me to play but rumors of a 50 yard bunker and a tight course that requires a ton of creativity is just incredibly tempting to see what it looks like.
Like Brora, going to Prestwick would also bring other courses into play. It would certainly mean heading back to Royal Troon, and it would also include adding a new course, discussed below.
Western Gailes, Ayrshire, Scotland
I happily admit I'd never even heard of Western Gailes until I watched Erik Anders Lang Scotland series and his video about this being one of Scotland's true hidden gems. (Ignore Erik talking about playing in fivesomes and how great the locker room smells…) "Gailes" translates to Gales, or Winds. So you're gonna get those true Scottish winds off of the coast. But in that video, you see so much of what is appealing in true links golf – the sea, the wind, the pot bunkers, the thick rough, putting from miles out on the fairway and holes that don't look like much anything else you've seen before.
The other big takeaway for me is how much FUN this group seemed to have playing, and all my (modest) research suggests that's hardly unique. It's a really good course, that somehow has eluded a major reputation but deserves it from the sheer quality of the layout and conditions.
So, in this bucket list, we've traveled from East Lothian north to Aberdeen, through Moray and into Inverness and then down into Ayrshire, just south of Glasgow. With the exception of Cullen and Brora, these are all easy courses to get to – and even in those two exceptions, they're just longer drives and aren't that far away from another course you might want to play.
That's not the case for the last two Scottish courses on my bucket list.
Askernish Golf Club, South Uist, Scotland
When you go to Scotland, it becomes quite clear that the oldest and most regaled courses were all designed by Old Tom Morris. Many of his great courses are also in Ireland. My guy traveled some GROUND back in the day. It's almost comical thinking of how one guy got around in an age before the automobile and planes, and managed to have such an impact. But there they are, the legends of the game, and "Old Tom" is behind so many of them.
So, what if I told you … there was a lost Tom Morris course? On an island off the West Coast of Scotland? And that it's been slowly and painstakingly restored to its original splendor by the residents of this small island?
Sometimes called the Lost Course, or The Ghost Course, it is indeed an Old Tom Morris course, and it's a JOURNEY to get there. If you scroll back up to the top of this page, it's the one way out West on its own little island. There is a plane (after which you need to drive for a few hours – that 'little' island is bigger than it looks), or if you go by boat, the ferry takes almost six hours (mostly because it stops a lot of places along the way). But the lore of the place is magical. From the New Yorker piece on this entitled The Ghost Course:
This time, Thompson led him to a grassy dune at the western end of the seventh hole, and when Irvine climbed to the top and looked toward the Atlantic he saw a stretch of undulating linksland running along the ocean, between the beach and the existing holes. For Irvine, the experience was like lifting the corner of a yard-sale velvet painting and discovering a Rembrandt. There were no surviving signs of golf holes in the waving marram grass, but the terrain, which had been shaped by the wind into valleys, hollows, and meandering ridges, looked so spectacularly suited to the game that he no longer doubted the Morris connection. Despite the rain, Irvine could easily imagine greens and fairways among the dunes, and he told Thompson that, if the club's members would agree to work with him, he would donate his time and expertise, and help them restore their lost masterpiece. A resurrected Askernish, he said, would provide a unique window on the birth of the modern game.

From "The Ghost Course," The New Yorker, David Owen, April 13, 2009
There's no way of knowing what the original course was actually like, but the architects went to painstaking measures to try and replicate the kind of course it would have been, based on the land and Morris' designs elsewhere.
Remember how I said that Tom Coyne's favorite Scottish course was Cruden Bay? This is the other one. Coyne has played almost every links course in Scotland, so that opinion carries real weight with me. It's called the most natural golf course in the world, probably because it is solely part of the land. But it's also because, as this course in the middle of a tiny island most of us have never heard of, it HAS to be natural. There's no budget for a master greenskeeper, and therefore they don't use chemicals or anything fancy – it's truly the land that's largely always been there, and the greens and fairways are as close to the way things looked 150 years ago as anything else. Yes, The Old Course is essentially unchanged – but this is RUGGED stuff.
Look, am I sure that I want to spend two days traveling to and from South Uist, Scotland to play 18 holes of golf. I'm not QUITE sure, but if we're talking bucket list stuff, I think I'm in.
Machrihanish Golf Club / Machrihanish Dunes, Argyll, Scotland
If it's not quite as hard to get to as Askernish, Machrihanish Golf Club is certainly still not easy. It's a windy 3-hour drive from Glasgow but from all accounts, it's well worth it.
This short video by Ru Macdonald of the Scottish Golf Podcast highlights some of the natural wonder of the course. It's long been one of those courses that true zealots knew about but others wouldn't make the trek out there. And at least in part to remedy that, an Australian financier hired architect David McKlay Kidd (who designed the namesake course at Bandon Dunes) to design a second championship course nearby named Machrihanish Dunes. It's soared to the top of those lists that golf nuts like me gobble up, and indeed the idea of making the trip out there for 36 holes of epic golf feels well more worth it.
Machrihanish Golf is – wait for it – an Old Tom Morris designed golf course, which is nearing it's 150th anniversary. Many, including Jack Nicklaus, have said it has the best opening hole in golf:
Maybe it's just me, but that feels VERY reminiscent of one of the greatest finishing holes in golf, the 18th at Pebble Beach. Given how many courses do not start out with great holes, I love the idea of starting with a true gem like this.
Having been built much more recently, it seems like "Mach Dunes" is a little more refined and elegant, and pictures like this don't do anything to dissuade me of that opinion:
Sometimes it feels like some things are revered because it's really a struggle to achieve or get to, but the actual thing itself isn't so great. I find zero evidence of this – everyone who has played it says the course is fantastic (well, they say this about both of the courses) and that the isolation from the rest of Scotland is a feature, not a bug. Honestly, I've driven over two hours to play golf here in Northern California so this hardly feels like a burden.
So, that's my list. Again, I have about twenty other Scottish courses on my "other" bucket list, and there's even more on the "sure, I'd love to play that!" list, if lists like that were interesting at all. But if pressed, these are the courses I'd be thrilled to play, just once, before the proverbial bucket got kicked.
What's on your bucket list in Scotland?