The effect the coronavirus has had on all of us is horrific beyond words, and far past the aims of this site to detail. But with every bag of lemons, there's some fixings for lemonade. And one of those is that the Pebble Beach Resorts have had a lot of cancellations and opened up their courses to more reasonable public play. Traditionally, in order to have an advance tee time at Pebble Beach, Spyglass or Spanish Bay, you need to book two nights at one of their properties, which will run you a bare minimum of $1,000 before taxes and fees. That prices these courses out of range for most of us.
As a member of the Northern California Golf Association, I was lucky enough to be given access to some of these deals, and me and three friends leapt at the chance to play. The biggest discount was at The Links at Spanish Bay, over 40% off and again, no overnight stay required. We played in late July 2020. For those curious, we played the white tees after talking with the starter – this was a strong (and smart) recommendation given that the wind and the sea level course makes the ball travel a shorter distance. (The starter's comments – "Play the whites, unless you don't want to have fun today." Choose your tees wisely, folks.)
The Links at Spanish Bay doesn't get a lot of love for courses down in Monterey, and after playing it, it's fairly obvious that this is more of a reflection of the other courses there than Spanish Bay itself. Sure, when you are comparing yourself to Cypress Point, Pebble Beach, Spyglass and others, it's hard to stand out. But this is about the course itself, and honestly, The Links at Spanish Bay is fantastic.
At least half the holes are ocean front, and you can see or feel the ocean from almost everywhere. The course starts and ends with shorter par-5's (461 and 510 yards, respectively). The first hole immediately shows you why it's a smartly designed course, though – despite being this short, going for it with a longer iron is seriously risky – if you miss the green, especially to the right, you just might be dead. Too long and you're literally on the beach. As the course guide says, "A good drive can create a difficult decision: take on the dunes and go for the green? Or lay up safely to the left? Keep in mind that a deep swale bites into the right side of the green."
The 2nd hole heads back inland with a wind off the coast and a short uphill par-4 that is begging you to make a bad decision. (Note: Just off the 2nd green is the outdoor patio where after your late afternoon round you need to get a cocktail and wait for the bagpipe player to come by. You're welcome.)
The 3rd hole heads back to the sea with a hard dog leg to the left. You'll want to drive your ball over the pot bunkers but not through the fairway which will leave you anywhere from 175 yards or in to the green. Again, the hole rewards smart, accurate play and will punish you and your bad decision making.
I don't think anyone benefits from me going through a complete, hole-by-hole breakdown so I'll just highlight a few of the other frankly terrific holes on the course. Take the 3rd hole, twist it and turn it inland and have it turn right – and you have the wonderful short par-4 6th hole. Here's me teeing off – I loved this hole because there are so many ways to play it off the tee, and also because I made a birdie.
The par-3 8th is short – but it's terrifying. Right is literally the road and short means you've lost your ball in the reeds. Just for fun, the green is surrounded on all other sides by massive bunkers. If the wind is up, you might be clubbing up by several clubs.
The par-5 10th is uphill but short enough that you can go for it in two. I genuinely enjoyed putting from about 40 feet off the green as the green complex itself has so many different ridges and slopes that I was terrified to use a wedge.
The 12th hole, "Cathedral" (have I mentioned yet that each hole has a cool name? They do.) requires a second shot over a huge barranca to an elevated green. It's really, really cool: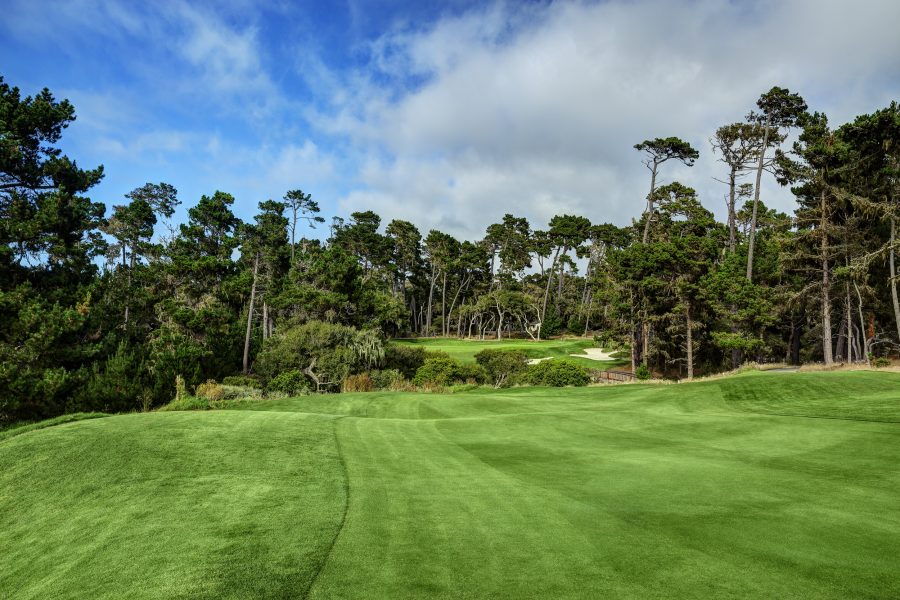 After "Wee Precipice," the shockingly hard par-3 13th (it's 115 yards off the tee and somehow really hard to hit the green), the par-5 "Wind & Willow" 14th hole runs straight downhill to Asilomar Beach, getting narrower as you get to the green. Somehow, the elevations are harder to see from the tee and something I wasn't aware of. Here's a video to illustrate what's going on.
I mean, it's not the same as the 14th hole at Pasatiempo, but it's still quite a lumpy, unique fairway! So fun. The video there also shows the scenery and man, it's gorgeous all over the course. It's a lovely walk, and a lot of different types of holes throughout – I'm fairly sure I used every club in my bag during the round, and probably said something like, "Is THIS any good?" more than my playing partners appreciated. And, had I eliminated one or two just utterly avoidable mistakes, I could have posted a fairly good score as well.
The 17th hole ("Whale Watch") gets a lot of attention, and it's because it's not only so damn scenic but it requires two thoughtful shots – your tee shot has a short forced carry but you also likely can't use driver, and your second shot also has a demand for accuracy. And it's easy to be distracted when it looks like this: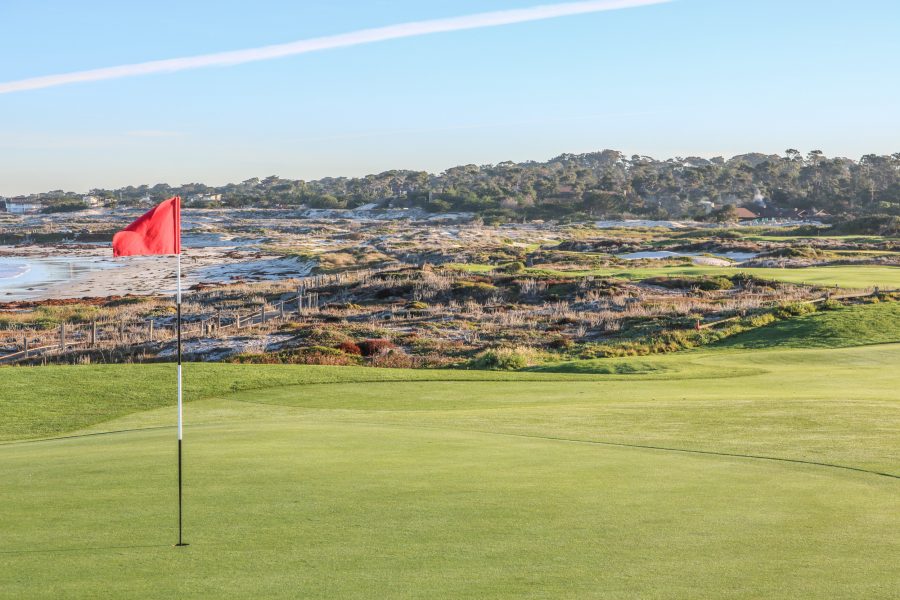 I found the back nine to be even more fun (and yes, that's probably because I went on a bit of a hot streak, for me) but both nines are excellent with good mixes of seaside and inland holes with different challenges for golfers of all stripes.
Even at full price, The Links at Spanish Bay is well worth it. If you can get there on a discount, even better. For a public course, you CAN do better – at some of the most elite courses in the country, to be fair. Regardless, you won't be upset by the experience and undoubtedly will have yourself a completely memorable and enjoyable time. Just a complete treat.